https://youtu.be/D2TUlUwa3_o?list=RDD2TUlUwa3_o
Louis Armstrong with Velma Middleton & His All Stars – Saint Louis Blues Album: Louis Armstrong Plays W.C. Handy Year: 1954
https://youtu.be/bKhie0-61M8
Streetcars of St. Louis:  This short video features streetcars operating throughout St. Louis before they were taken out of service in the 1960s.
https://youtu.be/p953KPAAfOQ?list=RDCMUC1apGMREzx11VjBJPuXhJGg
PRSL 1930's to 1960's  A look at the Pennsylvania-Reading Seashore Lines and predecessors from the 1930's to the 60's. Also included are brief glimpses of the CNJ's Blue Comet which ran on the PRSL from Winslow Jct. to Atlantic City.
https://youtu.be/_YR0NNJBWUs
Walking From Pershing And DeBalivere Ave to Lindell Blvd, In St. Louis, Mo.
https://youtu.be/ScSbIF41ER0
History of the Automobile in St. Louis | Living St. Louis:  Before the depression, St. Louis had a number of auto manufacturers, some big and some small, some successes and some failures. Companies producing cars in St. Louis besides the "big three" car makers were Gardner Motor Company, Moon Motor Car Company, Dorris Motor Company, and the St. Louis Motor Carriage Company.
https://youtu.be/aiQtCWdWOws
Saint Louis, Gateway To The West (1965)This video is about mid-1960s St. Louis, Missouri and the construction taking place around the new Gateway Arch, which opened in 1965. 
https://youtu.be/3fqb7jBIgoM
St. Louis History – Streetcars:  Trolleys were a part of everyone`s life, it`s how people got around
until after the first quarter of the 20th century, most people didn`t have automobiles so trolley cars were how you got places. And by the beginning of the 20th century, you could take the trolley almost anywhere in St. Louis, with 350 miles of streetcar tracks criss crossing the city. Trolley cars did all kinds of other things.  They delivered mail, there were mail trolley cars that distributed mail around the city, there were hearse trolley cars that carried the deceased to the cemeteries.  There were party trolley cars that you could rent for a party or a picnic, there were trolley cars that delivered vegetables, so trolley cars served every function that trolley cars now serve. And now at the beginning of the 21st century, St. Louis is going back to the future with the planned Delmar Loop trolley. As the president of the loop trolley company, Dr. Archibald hopes the new streetcar line will demonstrate the convenience and environmental advantages additional streetcar lines could bring to St. Louis, just as they already have in other cities. For a lot of cities, I think trolleys are going to be a part of the transit mix going into the future. So why did they streetcars go away in the first place? Well, it`s a long story but the short answer is it was the result of a conspiracy by some of the big car and truck and oil companies; which together formed their own streetcar company, that went around buying up other street car companies and then closing them to eliminate the competition with the automotive industry. As Dr. Archibald puts it, streetcars did not have a natural death, they were assassinated.
https://youtu.be/5_wJkRlPIiM
The Real Streets Of St Louis, Missouri
https://youtu.be/4ljVA6Z0a1s
Saint Louis, Missouri – 1900 to 1935 All photographs herein are from the Missouri Historical Archives – Saint Louis, Missouri. Music performed by the Paragon Ragtime Orchestra.
https://youtu.be/pF4mTdnAHWk
Late 1950s St Louis Streets, USA HD  Black African American men digging snow, clearing ice from street. Street scene. People crossing the road, getting onto bus. The Dollar Store EXT. Cars along road. Car park. Sign All Day Parking 50 Cents. Pan huge car park by bridge, hundreds of cars, backs of parked cars, 
https://youtu.be/ZHbdZiuoghE
Memories of St Louis in the 50's and 60's  The Tamale man on the corner from the Granada Theater, the knife sharpener (that REALLY goes back!), Ronnie's, sledding on Art Hill, the milk man with blocks of ice – and in the summer the driver would chunk off some for us kids, The Highlands where our school picnic was always held
https://youtu.be/bKI6r8K7Lkk
St. Louis Public Service — Before the Bi-State  Streetcars were made right here at the United Railways shops at 39th Street & Park. Our shops were constructed shortly after those in Chicago, and every modern mechanical contrivance was incorporated into the St. Louis shops – compressed air hoists and machine tools, extensive blacksmith shop, service pits, etc
https://youtu.be/7mfRXBeskWM
1950s: Downtown St. Louis department stores at Christmas-time
Robert Cieslak: "I always went downtown in the 40's and 50's during Christmas. Famous-Barr had the greatest train layout in a corner window. You could press a spot on the window and it would make the trains go."
https://youtu.be/XGjeNUAWZTA
The 1904 World's Fair in Saint Louis
short documentary of 1904 World's Fair that was held in St. Louis, also known as the Louisiana Purchase Exposition. This was one of many world expositions that have been held since 1856, but some consider this one to be one of the most significant for a variety of reasons. When the Fair was held, St. Louis was the 4th largest city in the United States.
https://youtu.be/qzZFU0YdYbY
History of Millionaire's Row (St. Louis Place)  | Nathan's Neighborhood History
Ron Schuster  "When we lived there, it was called St Louis Park. Never heard of St Louis Place while we were there. Also, the big tornado in 1959, while the main track was up around Jefferson, there WAS a sister funnel that went straight down the middle of the park, and it took out very big mature trees along StL Ave. Picked them straight up, roots and all, and laid them on their sides."
https://youtu.be/SOFcDBlF7SM
East Saint Louis Massacre | Living St. Louis  Efforts continue to teach about the events and remember the victims of 1917, when Black residents were killed, burned out of their homes, and driven from East St. Louis.
https://youtu.be/rBlEcyxEqzs
St. Louis (1764-1964): A Bicentennial Tribute – Here is a vintage 1960's documentary "A Bicentennial Tribute: St. Louis 1764-1964". This film was created to celebrate the 200th birthday of St. Louis, Missouri. The film covers the highpoints in the history of St. Louis from its beginnings as a fur trading post to its "rebirth" in 1964 Vintage 1960's Documentary
https://youtu.be/LgC_Bbk4pp8
Under St. Louis Vintage doc of St. Louis, Missouri underground- Lemp family, caverns, tunnels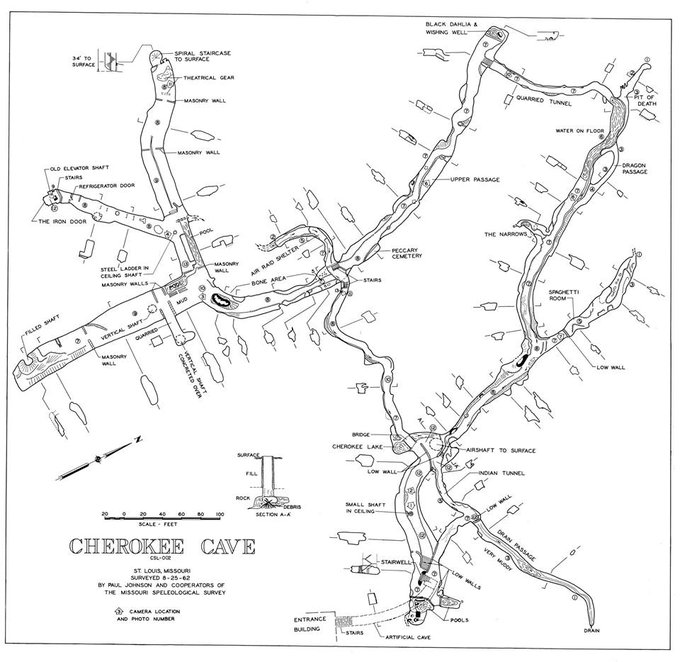 https://youtu.be/MAUA7st75ds?list=PLWyfxdp2FQno_SqA-eAV-ehoRJ66N9yEZ
Gaslight Square | Living St. Louis  Gas Light Square was vibrant and full of life. The Red Barn restaurant on Lindell. AAA Donuts @ Taylor and Olive. Southern Kitchen, Delmonico Cafe and Walker's Superette @Taylor and Delmar. Fry Drugs (Peanut M&M's on laundry day) a laundry, a Jewish Deli, Mavrakos Candy and Biedermann's Furniture @ Delmar and Walton. Delmar and Bayard was our IGA Supermarket then Woolworth's and Sweig-Engle appliances @ Delmar and Aubert.
https://youtu.be/b7-aQlyIkvA
The Secrets Of St Louis – 1960's Documentary – Missouri – Calvary Cemetery, Lafayette Park, Soulard
The film covers "secret" locations around St. Louis, Missouri such as Lafayette Park, Soulard Market and Calvary and Bellefontaine Cemeteries. Places that no longer exist are also explored including Kerry Patch neighborhood as well as renovated landmarks like the DeMenil Mansion, the Old Post Office, the Central West End and Eads Bridge.
https://youtu.be/ickpl67DVTs
The St. Louis Bank Robbery (1959) [Film Noir] [Crime]Directed by Charles Guggenheim and John Stix, produced by Jane Bridges, Katherine Drescher, Charles Guggenheim, Helen Hagen, Lee Hammond and Richard T. Heffron, written by Richard T. Heffron, starring Steve McQueen as George Fowler, Crahan Denton as John Egan, the boss, David Clarke as Gino, Ann's brother, James Dukas as Willie (the driver), Mollie McCarthy as George's ex-girlfriend, Martha Gable as Eddie's wife and Larry Gerst as Eddie.

https://news.stlpublicradio.org/government-politics-issues/2014-03-05/st-louis-in-photos-then-and-now
St. Louis In Photos: Then And Now 
https://www.vintag.es/2021/01/saint-louis-missouri.html
25 Amazing Color Photos of St. Louis, Missouri in the Late 1940s and Early '50s


http://www.ThePortlandAlliance.org/donate
Donate for Literacy
Speaking Truth to Power
Please support Alternative Media and Education
http://www.RevolutionResource.org
http://www.ThePeaceresource.com
http://www.ThePortlandAlliance.org
---
and other real news resources…
Together we make a difference.

Thanks for all you do.
activism, creative synthesis, dreams, education, freedom, human rights, justice, liberation, peace, revolution