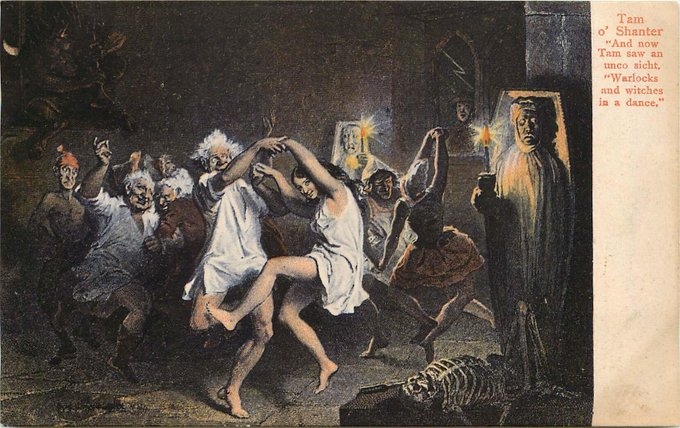 A warlock is the male equivalent of a witch or sorcerer. Your favorite fantasy novel might feature a wicked warlock who uses magic to take control of a peaceful kingdom. In fairy tales, myths, and other stories, there are many types of fanciful creatures and monsters, such as unicorns, goblins, and vampires.
https://youtu.be/zzLxGVCtp8E?list=RDzzLxGVCtp8E
The Warlocks – Hey Jo Hey Jo ALBUM Sixties Archives, Vol. 7: Michigan Punk
https://jerrygarcia.com/band/the-warlocks/
The Warlocks were formed in Palo Alto at the end of 1964 when Jerry Garcia, Ron "Pigpen" McKernan, and Bob Weir—the original members of Mother McCree's Uptown Jug Champions—decided to "plug in" at the urging of McKernan. They added a rhythm section: Dana Morgan Jr. on bass and Bill Kreutzmann on drums. Their first performance was in May of 1965 at Magoo's Pizza in Menlo Park. After a handful of performances, Phil Lesh replaced Dana Morgan.
THE WARLOCKS     December 1964 – November 1965

https://jerrygarcia.com/band/the-warlocks/
MUSICIANS
guitar, vocals

Bob Weir

guitar, vocals

Phil Lesh

bass

Bill Kreutzmann

drums

Ron "Pigpen" McKernan

keyboards, harmonica, percussion, vocals

Dana Morgan

bass
https://tubitv.com/movies/480403/warlock?
Warlock 1959 · 2 hr 1 min PG Western
A famous gunman becomes the marshal of Warlock to end a gang's rampages, but is met with opposition by a former gang member-turned-deputy sheriff. Starring Richard Widmark,
Henry Fonda and Anthony Quinn  Directed by Edward Dmytryk
https://youtu.be/DDbQ2Z2zpfI?list=RDDDbQ2Z2zpfI
The Warlocks Cocaine Blues Full Movie
HD Rise & Fall Album Bomp Cargo  Directed by Rod Cervera Rise and Fall is the first full-length album by American neo-psychedelic rock band The Warlocks. released by Bomp! Records in 2001.
"It was a short, strange trip from the earliest days of the Warlocks before taking the name that the world would know them by, the Grateful Dead. Formed in early 1965, the band set out playing a mixture of folk, blues, and rock and roll, all melted down into their own unique vision. As things began to cement, they would become fixtures on the San Francisco music scene, not only for their music, but for their lifestyle."

https://ultimateclassicrock.com/warlocks-grateful-dead/
"Ken Kesey held what was to become known as the first "Acid Test" in November 1965, with the Warlocks in tow. The event proved to be, perhaps, the most profound building block of the band's early days. "The whole world just went kablooey," guitarist Jerry Garcia said, recalling his first experiences with the drug in the band bio, A Long Strange Trip. "My little attempt at having a straight life was really a fiction."
https://youtu.be/AEEpY7rOIm4
The Shattered Throne – Solo Flawless, All Blues
 0:00 Start 7:22 Descent 18:17 Vorgeth  28:43 Press Onward and ammo faff 32:06 Ascent and more ammo faff 37:50 Dul Incaru
" The second Acid Test was held on Dec. 4, with the third set for the 11th. In between those dates, the Warlocks had agreed to perform a benefit concert for the San Francisco Mime Troupe."
https://youtu.be/16VLBmF8kXc?list=RD16VLBmF8kXc
Jon Hendricks – Fire in the City (w/ Warlocks aka Grateful Dead) (From the Film Sons and Daughters) Grateful Dead ALBUM Fire in the City (From the Film Sons and Daughters)
"The benefit was turning into a genuine happening. The bill also included Jefferson Airplane, the Great Society, John Handy Quintet, the Mystery Trend and the Gentlemen's Band. Because of the attendance of a different benefit show the band had recently played, and the buzz surrounding this one, promoter Bill Graham decided to hold this event in a larger venue, one that would soon become legendary. Graham secured the use of the Fillmore auditorium, and nearly all the pieces were in place."
https://youtu.be/57Ykv1D0qEE?list=RD57Ykv1D0qEE
Marvin Gaye – Inner City Blues (Make Me Wanna Holler)
https://youtu.be/ApthDWoPMFQ?list=RDApthDWoPMFQ
What's Going On · Marvin Gaye What's Going On
℗ A Motown Records Release; ℗ 1971 UMG Recordings, Inc. Released on: 1971-05-21
Producer, Performer, Vocals: Marvin Gaye
Performer, Recording Arranger: David Van dePitte
Recording Engineer, Mix Engineer: Lawrence Miles
Recording Enginees: Joe Atkinson, James Green, Recording Engineer: Art Stewart
Composer Lyricists: Renaldo Benson, Al Cleveland and Marvin Gaye
https://youtu.be/Izts_HkoXsE?list=RDIzts_HkoXsE
The Warlocks – Song For Nico
"One last change, however, was the matter concerning a new name, because there was already an established band called the Warlocks. "The Grateful Dead" was suggested by Garcia. "It was a truly weird moment," he later said regarding his stumbling upon the phrase that they would adopt as their new name."

https://youtu.be/c4rLEE__daM?list=RDEMeB4pPgXCEh9bFsdqSn7IOQ
The Warlocks – Only You The Warlocks – Only You
"This change did not sit well with Graham, who told them it gave him "the creeps." There was to have been an easel on the stage with photos of all the acts alongside their names, according to the band bio. Bassist Phil Lesh told Graham, "I'm sorry. This is the decision we've made. Here's what you do, put 'Formerly the Warlocks' in the space where the picture would go." This would be the first in a long series of clashes between Graham and the Dead for many years to come.
The benefit raised $6,000, the new name stuck, and the long, strange trip had officially begun."
https://youtu.be/Gv4zJlpa7n0?list=RDGv4zJlpa7n0
Memphis Slim – Born With The Blues
Read More: How the Warlocks Became the Grateful Dead | https://ultimateclassicrock.com/warlocks-grateful-dead/?
https://youtu.be/AyneR8scx44?list=RDAyneR8scx44
"If only I could be less blind
If only I knew what to find
Everywhere and all of the time
It's bending my mind"
---
Please Donate to help keep these Resources Online!
http://www.ThePortalndAlliance.org/donate
Thanks for supporting Alternative Media and Education
Contact Tim with questions
(editor@writingresource.org )
Please support
Alternative Media and Education
http://www.RevolutionResource.org
http://www.ThePeaceresource.com
http://www.ThePortlandAlliance.org
and other real news resources…
Together we make a difference.
Thanks for all you do.
Join the Revolution!   Please Donate for Literacy and to keep this resource.
---

Some people are so afraid they cannot find the courage to debunk the junk and face facts. And increasing numbers don't want to know truths which may be too terrible to bear.